Asylbewerber haben in Australien kaum eine Chance: Weit vor der eigenen Küste bringt die Marine Flüchtlingsboote auf, lehnt Anträge ab und schickt die Menschen zurück. Doch der Widerstand gegen diese Politik wächst.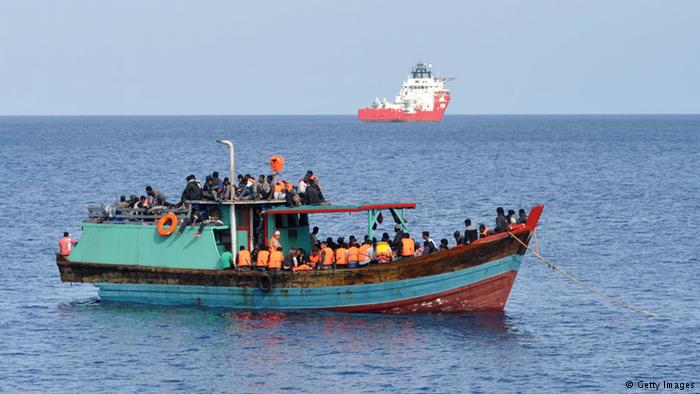 Der Weg ist weit, und er führt über den schier endlosen Indischen Ozean: Rund zwei Wochen dauert die Überfahrt, während der tagelang kein Land zu sehen ist. Gerade jetzt, in den Monaten nach dem Sommermonsun, entstehen immer wieder Zyklone mit meterhohen Wellen. Und trotzdem wagen Bootsflüchtlinge aus Sri Lanka immer wieder das Risiko – sie quetschen sich auf überfüllte, rostzerfressene Kutter, die vielleicht für den Fischfang in Küstennähe ausgelegt sind, aber sicher nicht für eine derartig lange Reise über das offene Meer.
Es gebe viele Gründe für Menschen in Sri Lanka, ihr Land zu verlassen, erklärt Alan Keenan, Südasienexperte der International Crisis Group in London: "Für viele Tamilen ist es die Verzweiflung aufgrund fehlender politischer Freiheiten. Denn ihr Land und ihre Gemeinden stehen zu 100 Prozent unter Kontrolle der singhalesischen Armee, und die kümmert sich kaum um die Einhaltung grundlegender Menschenrechte." Auch fünf Jahre nach Ende des Bürgerkrieges herrschen noch immer große Spannungen zwischen beiden Volksgruppen. Viele Singhalesen dagegen treibe eher die desolate wirtschaftliche Lage aus dem Land, so Keenan.
Das Ziel ist für beide Gruppen gleich. Es heißt Australien, und es liegt rund 6.000 Kilometer entfernt. Für die Flüchtlinge ist es das gelobte Land. Denn es verspricht Sicherheit, Wohlstand, ein besseres Leben. Und genug Platz: In Australien teilen sich gerade einmal drei Einwohner einen Quadratkilometer. Und trotzdem schottet "Down under" sich ab. "Stop the boats" hieß ein Wahlkampfslogan des konservativen Politikers Tony Abbott. Mit Parolen wie diesen gewann seine "Liberal Party of Australia" im vergangenen Jahr die Parlamentswahlen. Seitdem setzt Abbott die Slogans konsequent in die Tat um: Seit neun Monaten ist er Premier – seit sieben Monaten hat kein Flüchtlingsboot mehr die australische Küste erreicht.
"Die Asylbewerber sind zu einem hochpolitischen Thema geworden", sagt Gillian Triggs, die Leiterin der staatlich finanzierten australischen Menschenrechtskommission, gegenüber der DW: "Mindestens 1.200 Bootsflüchtlinge sind auf ihrem Weg nach Australien ums Leben gekommen. Die Öffentlichkeit ist schockiert. Die neue Regierung will zeigen, dass sie die Boote frühzeitig stoppen und das Sterben auf hoher See beenden kann."
Aufgebracht auf hoher See
Denn die Boote werden schon abgefangen, lange bevor sie Australien erreichen. In den vergangenen Tagen hat die Küstenwache einen Kutter auf hoher See gestoppt, hunderte Kilometer von der australischen Küste entfernt. An Bord waren 41 Menschen aus Sri Lanka. Nachdem die australischen Behörden die Flüchtlinge per Video-Schalte angehört hatten, lehnten sie alle Asylanträge ab und übergaben das Boot der Marine Sri Lankas. "Offshore processing" nennt die australische Regierung diese Methode – mit der sie sich den Zorn internationaler Menschenrechtsorganisationen zuzieht. Von "schamlosen Verstößen gegen die internationale Flüchtlingskonvention" spricht der "Refugee Council", ein Dachverband australischer Flüchtlingshilfswerke. Auch Gillian Triggs glaubt nicht, dass das Vorgehen der australischen Behörden "den UNHCR-Standards oder den Standards irgendeines anderen Landes entsprechen, das sich je mit Asylbewerbern auseinandergesetzt hat".
Die massiven Proteste zeigten Wirkung. Auf einem zweiten Schiff aus Sri Lanka, das die australische Küstenwache ebenso vor einigen Tagen gestoppt hatte, waren sogar 153 Menschen an Bord. Die meisten von ihnen stammen aus tamilischen Flüchtlingscamps in Südindien. Auch dieses Boot wollte die australische Küstenwache umgehend an die Behörden von Sri Lanka übergeben. Doch das Oberste Gericht setzte zumindest diese Rückführung vorerst aus. Es will die Vorwürfe der Hilfsorganisationen überprüfen.
Flüchtlinge wurden vor Gericht gestellt
Besonders schwer wiegt der Vorwurf, dass Australiens Regierung die Asylgesuche nur lasch und unzureichend überprüften. Graeme McGregor, australischer Flüchtlingsexperte von amnesty international, kritisierte vor allem die Befragung der 41 Bootsflüchtlinge per Videoschalte: "Dies nimmt den Asylsuchenden jede Chance auf eine faire und gerechte Anhörung. Jedem einzelnen wurden ganze vier Fragen gestellt, bevor sie an Sri Lankas Behörden übergeben wurden." Australiens Regierung verschließe wissentlich die Augen vor den andauernden Menschenrechtsverletzungen in Sri Lanka, so McGregor.
Grundsätzlich werden alle abgeschobenen Flüchtlinge, die nach Sri Lanka zurückkehren, vor Gericht gestellt, berichtet Alan Keenan von der International Crisis Group. "Einige werden freigelassen, andere dagegen verurteilt und ins Gefängnis gesteckt. Einige wurden sogar geschlagen und gefoltert – unglücklicherweise eine ganz übliche Praxis in Sri Lankas Gefängnissen." In Sri Lanka ist das "illegale Verlassen des Landes" ein Straftatbestand, der mit bis zu zwei Jahren Gefängnis geahndet werden kann. "Es gibt mehrere dokumentierte Fälle von abgelehnten Asylbewerbern, die nach ihrer Abschiebung nach Sri Lanka gefoltert wurden", so Keenan. Wenn die Menschen als gescheiterte Asylbewerber aktenkundig geworden seien, drohe ihnen sogar mehr Gefahr als zuvor.
Stetige Verschärfung der Asylpolitik
Australiens Flüchtlingspolitik steht schon länger in der internationalen Kritik. Hilfsorganisationen stoßen sich unter anderem daran, dass die Regierung in Canberra ein Netz von Flüchtlingslagern in Partnerstaaten und Inselrepubliken weit außerhalb der eigenen Grenzen unterhält, etwa auf Papua Neuguinea oder Nauru. Unter Abbotts Vorgängerregierung waren hier Asylanträge für die Weiterreise nach Australien geprüft worden. Abbotts Liberal Party unterbindet auch dies. Australiens Regierung plant, selbst anerkannte Flüchtlinge nicht ins Land zu lassen, sondern dauerhaft in den Nachbarstaaten unterzubringen. Schließlich seien Flüchtlinge auch auf Papua oder Nauru "keiner Art von Verfolgung ausgesetzt", erklärte Abbott in einem Interview mit dem "Sydney Morning Herald". "Das große Problem mit Staaten wie Papua Neuguinea oder Nauru ist, dass sie selbst keine gnenügenden Rechtsstandards besitzen", moniert Gillian Triggs. "Es ist quasi unmöglich, Asylbewerber dort anzuhören, denn es gibt kein ordentliches Rechtssystem, nach dem sie ihre Asylanträge vorbringen können." Trotzdem hat die Regierung im April 2014 auch mit dem tausende Kilometer entfernten Kambodscha ein entsprechendes Abkommen zur Errichtung von Auffanglagern geschlossen.
Die Abbott-Regierung hatte das Asylrecht zuletzt immer weiter verschärft. Wer einmal bei einem illegalen Einreiseversuch gefasst wird, hat keine Chance mehr auf ein dauerhaftes Aufenthaltsrecht. Stattdessen wird ein höchstens für drei Jahre geltendes "temporäres Schutzvisum" ausgestellt. Zudem besitzen illegal Eingereiste keinen Anspruch auf eine staatliche Rechtsberatung oder Krankenversicherung. Außerdem gelten für sie besonders rigide Vorschriften: Wer auch nur in der Öffentlichkeit flucht oder spuckt, riskiert eine sofortige Abschiebung.
Die Regierung geht sogar noch weiter: Erst im Juni 2014 hatte sie Asylsuchenden so genannte "Rückkehrgelder" in Höhe von 3.000 bis 10.000 US-Dollar geboten, falls diese ihren Asylantrag zurückzögen und freiwillig in ihre Heimatländer zurückkehrten. Von Juli 2012 bis Juni 2013 haben rund 25.000 Flüchtlinge in Australien Asyl beantragt. Die meisten von ihnen kommen nach Angaben des australischen "Refugee Councils" aus dem Iran, aus Afghanistan und aus Sri Lanka.