A train has just carted 56 tonnes of highly radioactive nuclear waste, including 16½ kilograms of plutonium, 934 kilometres from a recycling plant in southwest to a storage hall in northeast Germany. Depending on the kind of isotope, less than 10 kilograms of plutonium is needed for an atom bomb. Activists who tried to stop the train near its destination in the Baltic Sea resort of Lubmin had teeth bashed out, lips split, noses bloodied, were bruised and randomly pepper-sprayed by some of the 7,000 police assigned to ensure the consignment went through. A young woman needed hospital treatment.
The train took 28 hours, delayed by nearly four, for the journey from a former recycling plant at Karlsruhe past Würzburg, Erfurt, Magdeburg, Osterburg, Seehausen and Wittenberge, Neustreltz, Greifswald (pictures). It was the second waste train to Lubmin in two months.
"Thank god it's in," said a local mayor, tired of all the fuss with the tourist season due to open soon in the Baltic sea resort (the Baltic is the world's most radioactively contaminated sea). The regional interior minister is happy, the police are happy, the activists are happy, celebrating the four-hour delay as "a success".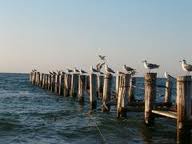 There must be something wrong with me, because I can't see anything to be happy about, except maybe that things weren't as bad with this waste trip as in November in Gorleben, in the neighbouring state Lower Saxony, where police injured 500 protesters against a waste consignment, mostly with pepper spray and tear gas.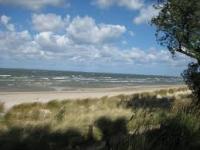 Especially near the end of the Wednesday/Thursday journey police had to remove activists from rail blockades. "The police shoved, kicked and bashed," alleged an official of The Greens party. Demonstrators reported being punched and hit by baton around head height. Some activists were held captive without explanation for up to three hours. Others had to strip to their underwear in police custody.

Mainstream media reported that the trip north proceeded "without larger incidents". In sub-zero temperatures, activists stopped the train several times with track squats and chain-ons in Mecklenburg-West Pomerania, the destination state.

The police leadership summed up positively. The transport had safely reached its destination and protests had been mainly peaceful. They rejected the accusation of wanton and needless brutality, but an investigation into police behaviour has been promised. An injured activist has filed a legal action against police.

A police union complained of "health endangering permanent stress" on police through nuclear waste transportation and other large events, and called for an increase in their numbers.

"The times of silent nuclear waste transportation to northeast Germany are definitely gone," said Sophie Hirschelmann, spokeswoman of the area's anti-nuclear alliance. She said across the state about 600 people took part in protests. Across Germany vigils, rail strolls and squat blockades were reported at 22 locations. The train had to stop several times.

The anti-nuclear movement commented, "The anti-nuclear movement has reached east Germany." Countless newly formed initiatives h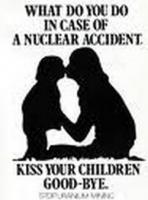 ad called for protests and had been active at the rails, said a spokesman.

Most of the protest action was at the departure of the train from Karlsruhe, in Halle/Saale and in several places of Mecklenburg-West Pomerania.

About 400 people blocked the rails in Karlsruhe Wednesday night. A handful of Greenpeace activists chained themselves to rails. Police cut the rails and carried the protesters off attached to them. The rails were then fixed again. Police were impressed: "Lightning fast action by pros."

Described as a "nuclear soup", called "Highly Active Waste Concentrate" in nuke-speak, the waste was fused in glass in the
Karlsruhe centre, now closed, to make it transportable. The waste was produced between 1971 and 1990 in Karlsruhe as 200 tonnes was recycled in a pilot operation.

Dismantling Karlsruhe will cost at least 2.7 billion euros. The power industry will have to foot only 512 million. The lion's share will be the taxpayer's burden. It's expected to take until 2023 to finish.

Storage in Lubmin is highly controversial. The federal government owned storage facility was originally intended only for waste from East German nuclear power stations at Lubmin and Rheinsberg.

But driven by the federal government and resisted by the Mecklenburg-West Pomerania state government, spent fuel rods and strongly radioactive waste from federal research facilities were also taken to Lubmin.

The storage facility, comprising eight halls, is located on the grounds of the former nuclear power station at Lubmin, near Greifswald, switched off in 1990.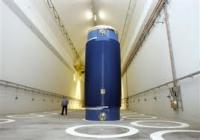 One of the 18-metre-high halls is designed for 80 so-called CASTOR caskets containing highly radioactive waste. 69 were already in it, 65 of them from the Lubmin and Rheinsberg nukes. Thursday's train added five. The other three quarters full halls contain large radioactive parts and weakly and medium radioactive leftover materials from the demolished nukes.

Storage of highly radioactive material is licensed in Lubmin until 2039, there's no limit on the less radioactive materials. They're to be carted some time in the future to a former iron mine, "Schacht Konrad", in neighbouring Lower Saxony.

The waste is to be "interim-stored" in Lubmin until a final repository is found – under present government policy likely to be Gorleben. Federal finance planning already foresees storage in Lubmin not for 40 but 80 years. The reason given is that in the foreseeable future no functioning final repository will be available in Germany.

In autumn there'll be another nuclear waste train to Gorleben. The last one attracted 50,000 protesters to the area. Two out of three Germans want nuclear power ended. The present conservative government has just licensed it until 2040, giving the oldest stations eight more years, the newest 14 years more to operate.
Videos from Karlsruhe and Stralsund
Robin Wood blockade near Halle
Neo-Nazis attack anti-nuclear activists